Kaspersky Embedded Systems Security

Unique multi-layered security to protect embedded systems from the latest threats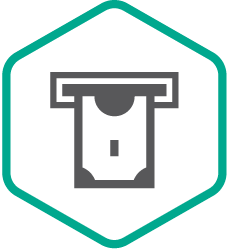 Kaspersky Products
Kaspersky Embedded Systems Security
Kaspersky Embedded Systems Security, 10-14 Users, 1 Year (Includes Community License + Maintenance)
*Price per user for quantities 10-14. Quantity must be 10 or greater
#KL4891AAKFS
List Price:
$70.00
Our Price: $56.00
Kaspersky Embedded Systems Security, 15-19 Users, 1 Year (Includes Community License + Maintenance)
*Price per user for quantities 15-19. Quantity must be 15 or greater
#KL4891AAMFS
List Price:
$63.70
Our Price: $50.96
Kaspersky Embedded Systems Security, 20-24 Users, 1 Year (Includes Community License + Maintenance)
*Price per user for quantities 20-24. Quantity must be 20 or greater
#KL4891AANFS
List Price:
$57.40
Our Price: $45.92
Kaspersky Embedded Systems Security, 25-49 Users, 1 Year (Includes Community License + Maintenance)
*Price per user for quantities 25-49. Quantity must be 25 or greater
#KL4891AAPFS
List Price:
$51.80
Our Price: $41.44
More pricing below, click here!
Overview
Windows embedded systems are an increasingly popular target for cybercriminals. These devices tend to operate inside the corporate network, are geographically scattered and usually handle critical data, often working with credit and debit cards. End-of-life Windows XP is still a standard for many of these systems, as is low-end hardware.
Kaspersky Embedded Systems Security (KESS) is specifically designed to protect these systems against attacks targeting their contents and exploiting their limitations. It is designed for low-power, Windows-based embedded systems, such as ATM and POS systems, vending machines, and medical equipment. It was designed specifically to support both modern and legacy OS versions and protect them against cyberattacks, including financial fraud, data theft and insider threats.
Best protection for any embedded scenario
Kaspersky Embedded Systems Security is a true multi-layered solution, offering an optimal selection of protective layers to provide the best security level possible for devices of differing power and with different implementation scenarios.
Older systems receive the most up-to-date protection
Kaspersky Embedded Systems Security has been optimized to run with full functionally on the Windows XP platform as well as on the Windows 7, 8, 10 and even the newest Windows 11 families. Kaspersky solution is committed to providing total support for the Windows XP family for the foreseeable future, giving customers enough time to upgrade when appropriate.
Low resources but high security levels
Kaspersky Embedded Systems Security has been built specifically to operate effectively even on low-end hardware.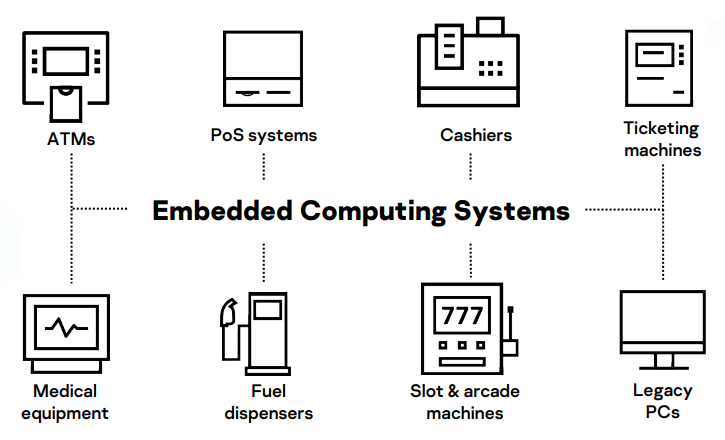 ---
Key Security Challenges
Embedded devices, though very similar to regular computers, present a number of specific challenges. Some of these are common to all embedded devices, while others are characteristic of particular devices types. These challenges include:
Obsolete, vulnerable software
Long lifecycles can mean running out-of-support operating systems and apps, containing unpatched vulnerabilities that can be exploited.
Irregular security updates
Even where the software's supported, there can be patching gaps. Problems with updating multiple geographically-dispersed devices or taking them offline for update purposes (and thus creating a temporary Denial of Service), and the need to test the updates before deploying them in production can all contribute to patching delays.
Process continuity
Taking certain types of device – such as medical equipment – out of service temporarily for updating can be especially undesirable, further increasing the patching gap timeframe.
Public space placement
Many embedded devices operate in open public spaces, which greatly increases the risk of tampering. Network-level defenses can't protect against the direct physical infection of the device.
Inherently risky context
Embedded devices are particularly attractive to cybercriminals, as so many are directly involved in financial operations and/or process sensitive personal information.
Subject to strict regulations
Because of the financial and personally identifiable information they may process, many embedded devices operate under regulations mandating a particularly diligent approach to security.
Insider threats
According to Kaspersky data, over 50% of all successful attacks on embedded systems involve 'insider activity' – by an employee or a 3rd party service provider
---
The Threats
Embedded systems are everywhere: in ticketing machines, ATMs, kiosks, Point of Sale systems, medical equipment… the list is endless.
Kaspersky Embedded Systems Security secures Windows-based devices from unauthorized access and the damage caused by cyberattacks, protecting your business from:

Theft and exploitation of customer credentials and confidential data

Targeted attacks, initiated through your Windows embedded systems

All the costs associated with reputational and brand damage

Theft through duplicate credit cards, using POS and ATM memory dumps

Cash loss resulting from direct hacking of individual ATMs

Having to update your hardware and OS when you update your security
Suitable for
This solution is particularly well suited to addressing the security requirements, concerns and constraints of these enterprise sectors:
Finance Services
Retail
Transport
ATM and POS Service Providers
Healthcare
---
Pricing Notes:
Kaspersky Products
Kaspersky Embedded Systems Security
Kaspersky Embedded Systems Security, 10-14 Users, 1 Year (Includes Community License + Maintenance)
*Price per user for quantities 10-14. Quantity must be 10 or greater
#KL4891AAKFS
List Price:
$70.00
Our Price: $56.00
Kaspersky Embedded Systems Security, 15-19 Users, 1 Year (Includes Community License + Maintenance)
*Price per user for quantities 15-19. Quantity must be 15 or greater
#KL4891AAMFS
List Price:
$63.70
Our Price: $50.96
Kaspersky Embedded Systems Security, 20-24 Users, 1 Year (Includes Community License + Maintenance)
*Price per user for quantities 20-24. Quantity must be 20 or greater
#KL4891AANFS
List Price:
$57.40
Our Price: $45.92
Kaspersky Embedded Systems Security, 25-49 Users, 1 Year (Includes Community License + Maintenance)
*Price per user for quantities 25-49. Quantity must be 25 or greater
#KL4891AAPFS
List Price:
$51.80
Our Price: $41.44
Kaspersky Embedded Systems Security Compliance Edition
Kaspersky Embedded Systems Security Compliance Edition, 10-14 Users, 1 Year (Includes Community License + Maintenance)
*Price per user for quantities 10-14. Quantity must be 10 or greater
#KL4892AAKFS
List Price:
$105.00
Our Price: $84.00
Kaspersky Embedded Systems Security Compliance Edition, 15-19 Users, 1 Year (Includes Community License + Maintenance)
*Price per user for quantities 15-19. Quantity must be 15 or greater
#KL4892AAMFS
List Price:
$95.55
Our Price: $76.44
Kaspersky Embedded Systems Security Compliance Edition, 20-24 Users, 1 Year (Includes Community License + Maintenance)
*Price per user for quantities 20-24. Quantity must be 20 or greater
#KL4892AANFS
List Price:
$86.10
Our Price: $68.88
Kaspersky Embedded Systems Security Compliance Edition, 25-49 Users, 1 Year (Includes Community License + Maintenance)
*Price per user for quantities 25-49. Quantity must be 25 or greater
#KL4892AAPFS
List Price:
$77.70
Our Price: $62.16