Kaspersky Endpoint Security for Business - Advanced

Boosting it security and efficiency - across your business
Kaspersky Endpoint Security for Business - Advanced
Kaspersky Endpoint Security for Business - Advanced (Includes Maintenance), 1 Year
Kaspersky Endpoint Security - Advanced, 10-14 Node, 1 Year (Includes Maintenance)
*Price per Node for quantities 10-14. Quantity must be 10 or greater.
#KL4867AAKFS
List Price:
$77.00
Our Price: $61.60
Kaspersky Endpoint Security - Advanced, 15-19 Node, 1 Year (Includes Maintenance)
*Price per Node for quantities 15-19. Quantity must be 15 or greater.
#KL4867AAMFS
List Price:
$70.07
Our Price: $56.06
Kaspersky Endpoint Security - Advanced, 20-24 Node, 1 Year (Includes Maintenance)
*Price per Node for quantities 20-24. Quantity must be 20 or greater.
#KL4867AANFS
List Price:
$63.14
Our Price: $50.51
Kaspersky Endpoint Security - Advanced, 25-49 Node, 1 Year (Includes Maintenance)
*Price per Node for quantities 25-49. Quantity must be 25 or greater.
#KL4867AAPFS
List Price:
$56.98
Our Price: $45.58
Kaspersky Endpoint Security for Business - Advanced Competitive Upgrade (Includes Maintenance), 1 Year
Kaspersky Endpoint Security - Advanced, 10-14 Node, 1 Year Competitive Upgrade (Includes Maintenance)
*Price per Node for quantities 10-14. Quantity must be 10 or greater.
#KL4867AAKFW
List Price:
$61.60
Our Price: $49.28
Kaspersky Endpoint Security - Advanced, 15-19 Node, 1 Year Competitive Upgrade (Includes Maintenance)
*Price per Node for quantities 15-19. Quantity must be 15 or greater.
#KL4867AAMFW
List Price:
$56.06
Our Price: $44.85
Kaspersky Endpoint Security - Advanced, 20-24 Node, 1 Year Competitive Upgrade (Includes Maintenance)
*Price per Node for quantities 20-24. Quantity must be 20 or greater.
#KL4867AANFW
List Price:
$50.51
Our Price: $40.41
Kaspersky Endpoint Security - Advanced, 25-49 Node, 1 Year Competitive Upgrade (Includes Maintenance)
*Price per Node for quantities 25-49. Quantity must be 25 or greater.
#KL4867AAPFW
List Price:
$45.58
Our Price: $36.46
More pricing below, click here!
Overview:
Kaspersky's Advanced tier delivers the protection and management solution your organization needs to enforce IT policy, keep users free from malware, prevent data loss, and enhance IT efficiency.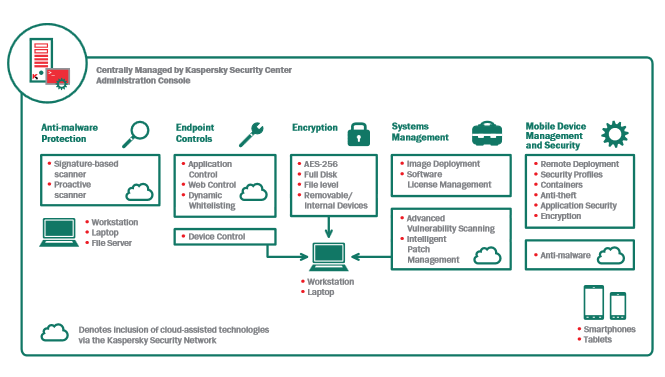 The Industry's Only True Security Platform
One Management Console
From one 'single pane of glass', the administrator can view and manage the entire security scene — virtual machines, physical and mobile devices alike.
One Security Platform
Kaspersky Lab developed our console, security modules and tools in-house rather than acquiring them from other companies. This means the same programmers working from the same codebase have developed technologies that talk together and work together. The result is stability, integrated policies, useful reporting and intuitive tools.
One Cost
All tools are from one vendor, delivered in one installation — so you don't have to go through a new budgeting and justification process to bring your security risks in line with your business objectives.
Encryption And Data Protection:
Comprehensive Encryption
Choose from full-disk or file level, backed by Advanced Encryption Standard (AES) with 256 bit encryption to secure critical business information in the event of device theft or loss.
Support For Removable Devices
Increases your security through policies that enforce the encryption of data on removable devices.
Secure Data Sharing
Means users can easily create encrypted and self- extracting packages to ensure data is protected when sharing via removable devices, email, network or web.
Transparency For End - Users
Kaspersky's encryption solution is seamless and invisible to users, and has no adverse impact on productivity. No impact on application settings or updates, either.
Endpoint Controls:
Application Control
Enables IT administrators to set policies that allow, block or regulate applications (or application categories).
Device Control
Allows users to set, schedule and enforce data policies with removable storage and other peripheral device controls — connected to USB or any other bus type.
Web Control
Means that endpoint-based surfing controls follow the user — whether on the corporate network or roaming.
Dynamic Whitelisting
Real-time file reputations delivered by the Kaspersky Security Network ensure your approved applications are malware free and help maximize user productivity.
Endpoint Protection Features:
Superior Endpoint Anti - Malware
Industry-proven traditional signature-based, proactive and cloud based methods for detecting malware threats.
Cloud - Assisted Protection
The Kaspersky Security Network (KSN) provides a response to suspected threats, much faster than traditional methods of protection. KSN's response time to a malware threat can be as little as 0.02 seconds
Systems Configuration And Patch Management:
Patch Management
Advanced in-depth scanning for vulnerabilities combined with the automated distribution of patches.
Remote Deployment Of Software
Central deployment of software to client machines, even to branch offices.
Network Admission Control (NAC)
With Network Admission Control (NAC), you can create a network 'guest' policy. Guest devices (including mobile devices) are automatically recognized and sent to a corporate portal where the correct identification password enables them to use the resources you've approved.
Operating System And Application Image Deployment
Easy creation, storage and deployment of system images from a central location. Perfect for migration to Microsoft ® Windows ® 8.
Hardware, Software And License Management
Hardware and software inventory reports help keep control over software license obligations. So you can save on costs by centrally provisioning software rights.
Mobile Security Features:
Innovative Anti - Malware Technologies
Combined signature-based, proactive and cloud-assisted detection results in real-time protection. A safe browser and anti-spam increase the security.
Deployment With Over The Air (OTA) Provisioning
Preconfigure and deploy applications centrally using SMS, email and PC.
Remote Anti - Theft Tools
SIM-Watch, Remote Lock, Wipe and Find all prevent unauthorized access to corporate data if a mobile device is lost or stolen.
Application Control For Mobile Devices
Monitors applications installed on a mobile device according to the pre-defined group policies. Includes a "Mandatory Application" group.
Support For Employee Owned Devices BYOD iInitiative?
Corporate data and applications are isolated in encrypted containers which are transparent to the user. This data can be wiped separately.
Business Benefits:
Business IT environments are more complex than ever before. At the same time, cybercriminals and hackers are using increasingly cunning and sophisticated methods to attack all sizes of businesses. If IT security provisions and IT management don't evolve to meet these new challenges, businesses are putting themselves at risk. Kaspersky Endpoint Security for Business | Advanced delivers our award-winning threat protection technologies plus an array of other security functions – so your business benefits from multi-layer defenses. Vulnerability scanning and patch management technologies help to eradicate vulnerabilities within your operating systems and application software, while data encryption helps to safeguard confidential business information if a laptop is lost or unauthorized users try to steal data.
Boosting IT systems management efficiencies
For today's complex corporate IT environments, the sheer volume of essential, day-to-day systems management tasks can be overwhelming. Our systems management functionality automates a vast range of security and administration tasks – to help reduce IT management complexity. You gain improved visibility of your IT network – and you can control multiple security and administration functions, via a single integrated systems and security management console.
Eliminating vulnerabilities & managing patches
Because unpatched vulnerabilities – within operating systems & applications – have become one of the most common ways for cybercriminals to attack corporate networks, we've developed automatic vulnerability scanning and patch management & distribution technologies. By giving you centralized control over vulnerability assessment and the distribution of the latest patches, we help you to reduce your exposure to threats.
Preventing the loss of sensitive business information
The loss of a laptop or mobile device can result in confidential data falling into the wrong hands. Our flexible data encryption functionality helps you to enforce the encryption of files, folders, disks and removable devices. Data encryption is easy to configure and can be managed from the same management console that you use to control all other Kaspersky Lab endpoint security technologies running on your network.
Delivering multi-layer protection – for workstations and more
Our class-leading, multi-layer defenses against malware and attacks protect Windows, Mac & Linux desktops & laptops – and Windows & Linux file servers – against known, unknown and advanced threats. These technologies are further complemented by Application Control, Device Control and Web Control tools for desktops and laptops. Our powerful control tools help you to manage how applications run, block the use of unauthorized removable devices and implement Internet access policies.
Protecting mobile devices and data
Rigorous mobile security technologies help you to protect the most popular mobile platforms against malware, phishing, spam and more. Furthermore, by enabling various Mobile Device Management (MDM) and Mobile Application Management (MAM) functions – via a single interface – Kaspersky Endpoint Security for Business | Advanced saves you time and makes it easier to roll out unified mobile security policies.
Centralizing systems & security management
By including Kaspersky Security Center – our highly integrated management console that gives you centralized control over all of our endpoint security technologies – Kaspersky Endpoint Security for Business | Advanced helps to cut management complexity. Integration with two of the most popular security information and event management (SIEM) products – HP ArcSight and IBM QRadar – helps ensure enterprise-level businesses get the real-time monitoring data they need.
Features:
Superior endpoint security technologies plus far-reaching systems management capabilities – with a single unified management console.
Protecting Windows, Linux & Mac Desktops & Laptops*
Delivering multi-layered security 
Our latest anti-malware engine combines signature-based security, heuristic & behavioral analysis and cloud-assisted technologies – to protect your business against known, unknown and advanced threats. It can defend any combination of Mac, Linux and Windows desktops and laptops.
Updating security more efficiently 
Because cybercriminals are continually launching new and more complex malware, we deliver database updates on a much more frequent basis than many other security vendors. In addition, we use multiple advanced security technologies to ensure we deliver greatly improved detection rates – while also cutting the size of updates… so more of your communications bandwidth is available for other tasks.
Protecting against unknown and advanced threats 
When a new malware item is unleashed on the world, there's a period of high risk. To deliver zero-hour protection against these threats, Kaspersky Lab technologies and threat intelligence continually evolve to ensure your business is protected from even the most sophisticated, new threats.
Detecting suspicious behavior 
Whenever an application launches on your corporate network, our System Watcher module monitors the application's behavior. If suspicious behavior is detected, System Watcher automatically blocks the application. In addition – because System Watcher keeps a dynamic log of the operating system, registry and more – it automatically rolls back malicious actions that the malware implemented before it was blocked.
Protecting against exploits 
Our innovative Automatic Exploit Prevention (AEP) technology helps to ensure malware can't exploit vulnerabilities within the operating systems or applications that are running on your network. AEP specifically monitors the most frequently targeted applications – including Adobe Reader, Internet Explorer, Microsoft Office, Java and many more – to deliver an extra layer of security monitoring and protection against unknown threats.
Controlling applications and connectivity 
For some applications – even though the applications may not be classed as malicious – their activities may be regarded as high-risk. In many cases, it's advisable that these activities are restricted. Our Host-Based Intrusion Prevention System (HIPS) restricts activities within the endpoint, according to the 'trust level' that has been assigned to the application. HIPS works together with our application-level Personal Firewall – which restricts network activity.
Blocking network attacks 
Network Attack Blocker technology detects and monitors suspicious activities on your corporate network – and lets you preconfigure how your systems will respond if suspicious behavior is identified.
Using the power of the cloud – for even better security 
With millions of users letting the cloud-based Kaspersky Security Network (KSN) receive data about suspicious behavior on their computers, your business can benefit from improved protection against the latest malware. This real-time flow of data ensures customers can benefit from a rapid response to new attacks – and it helps to minimize the incidence of 'false positives'.
Protecting Your File Servers
Securing heterogeneous environments 
Our award-winning security protects file servers running Windows, Linux or FreeBSD. Optimized scanning processes help to ensure there's minimal impact on the performance of your servers. In addition to protecting cluster servers, we also defend Microsoft and Citrix terminal servers.
Ensuring reliable protection 
If one of your file servers develops a fault, our security technologies will automatically re-launch when the file server restarts.
Boosting manageability 
Every minute you have to spend on administration and generating reports, is time you could be devoting to strategically important activities. That's why we provide a centralized console that lets you manage security on all your endpoints – file servers, workstations and mobile devices – and makes it easy to generate detailed reports.
Enhancing Security & Extending Systems Management
Eliminating known vulnerabilities 
Our technologies scan your entire network – to identify vulnerabilities that result from unpatched applications or operating systems. Detected vulnerabilities can be automatically prioritized – and then patches and updates can be automatically distributed. Because we distribute new patches more rapidly than many other patching solutions, we help you to eliminate vulnerabilities within a shorter period.
Managing your hardware & software assets 
All devices and software on your network are automatically discovered and recorded in a hardware inventory and a software inventory. The hardware inventory includes detailed information about each device and the software inventory helps you to control software usage and block unauthorized applications. Even guest devices that appear on your network can be automatically discovered – and provided with access privileges, without compromising the security of your corporate systems and data.
Optimizing the distribution of applications 
You can deploy software at your command or schedule it for after office hours. For some installers, you can specify additional parameters in order to customize the software package that is installed. The use of secure, remote connections to any desktop or client computer helps you to resolve issues rapidly – and an authorization mechanism prevents unauthorized remote access. For traceability, all activities during a remote access session are logged.
Automating & optimizing OS deployment 
Our technologies automate and centralize the creation, storage and cloning of secured system images. Images are held in a special inventory – ready to be accessed during deployment. Client workstation image deployment can be made with either PXE servers (Preboot eXecution Environment) – that have been previously used on the network – or using our own features. The use of Wake-on-LAN signals lets you automatically distribute the images after office hours. UEFI support is also included.
Reducing traffic – remote distribution 
If you need to distribute software or patches to a remote office, one local workstation can act as the update agent for the entire remote office – to help reduce traffic levels on your network.
Integration with SIEM systems 
Because security information and event management (SIEM) systems can play a vital role in helping enterprise-level businesses to gain real-time monitoring, we've included integration with two of the most popular SIEM products – HP ArcSight and IBM QRadar.
Encrypting Confidential Information
Strong encryption 
By using an AES encryption algorithm that has 256 bits of key length and is NIST approved (#2980), we deliver strong encryption for your confidential information. If files or systems are lost or stolen, unauthorized users will not be able to access your encrypted data. Our encryption has also been designed to be FIPS 140-2 compliant (validation pending).
Integrated – for improved manageability 
Although many vendors' encryption products are not delivered as part of an integrated IT security solution, our encryption technologies are one component within a unified codebase that has all been developed by our in-house team. This makes it easier for you to apply encryption settings as part of the same policies that cover your anti-malware defenses, endpoint controls and other endpoint security technologies.
Full Disk Encryption and File-Level Encryption 
For encryption that's 'close to the hardware' – and to make it easy for you to run an 'encrypt everything at once' strategy – Full Disk Encryption (FDE) operates on the physical sectors of the disk. File-Level Encryption (FLE) helps you to enable secure sharing of data across your network. For additional security – when a file is encrypted – the original, unencrypted file can be wiped from the hard drive.
Encryption of removable media 
To protect data that also needs to be transferred on removable devices, Removable Media Encryption can perform Full Disk Encryption and File-Level Encryption.
'Portable mode' encryption 
If you need to transfer sensitive data via email, the Internet or a removable device, you can easily set up password-protected, encrypted, self-extracting packages of files and folders. A special 'portable mode', for File-Level Encryption on removable media, helps enable the secure transfer of data – even onto computers that are not running Kaspersky Endpoint Security for Windows.
Simplified sign-on and smartcard / token support 
When a user switches on their PC and enters their username and password, our Single Sign-On feature will give the user immediate access to the encrypted data on their PC's hard drive. This helps to ensure the encryption & decryption processes are virtually transparent to the user – and that helps to boost efficiency and productivity. Two-factor authentication – via smartcards and tokens – is also supported.
Support for Intel AES-NI and more 
By supporting Intel AES-NI, we enable more rapid encryption and decryption of data – for many Intel processor-based and AMD processor-based systems**. Our Full Disk Encryption technology also supports UEFI-based platforms. There's also support for non-QWERTY keyboards.
Protecting Mobile Devices***
Robust mobile security 
By combining the industry's most advanced technologies, we defend against the latest mobile threats. Anti-phishing protects against websites that try to steal information or identity details – and anti-spam helps to filter out unwanted calls & texts. Flexible control tools let you block the launch of unauthorized applications and block access to dangerous websites. Rooting and jailbreaking incidents are automatically detected – and the devices are blocked.
Separating corporate and personal data 
Our 'app wrapping' technology lets you set up special containers on each device. Corporate applications are stored in the containers – totally separated from the user's personal data. You can enforce encryption for all containerized data and prevent data from being copied and pasted outside the container – plus you can request additional user authorization before containerized applications are allowed to launch. If an employee leaves your business, the remotely operated Selective Wipe feature lets you delete the corporate container – without deleting the device owner's personal data and settings.
Supporting common MDM platforms 
With improved mobile device management (MDM) capabilities, it's easy to apply group or individual MDM policies to Microsoft Exchange ActiveSync and iOS MDM devices – through a single interface. Support for Samsung KNOX lets you manage various settings for Samsung devices.
Locking, wiping and locating missing devices 
Remotely operated security features help to protect corporate data on missing devices. Administrators and users can lock the device, delete corporate data and find the device's location. If a thief changes the SIM card, our SIM Watch feature sends you the new phone number – so you can still run the anti-theft features. Support for Google Cloud Messaging (GCM) helps ensure Android phones receive anti-theft commands rapidly.
Self-Service Portal 
Our special Self-Service Portal makes it easy to enable personal mobile devices onto the corporate network. In addition, the portal gives users remote access to key anti-theft features – so users can rapidly respond to the loss of a device and reduce the risk of data loss, without adding to the load on administrators.
Easing the burden on IT administrators 
A single centralized console lets you manage mobile devices – and their security – and makes it easy to apply consistent policies across different mobile platforms. In addition, our Web Console lets you manage mobile devices and their security – plus the security of other endpoints – from anywhere you can get online.
Controlling Applications, Devices and Internet Access
Dynamic Whitelisting – to complement security 
Our Application Control is the industry's most comprehensive implementation. We're the only security vendor that has invested in establishing its own Whitelisting Lab that checks applications for security risks. Our database of whitelisted applications includes over 1.3 billion unique files – and it's growing by a further 1 million files per day. Application Control and Dynamic Whitelisting makes it easier for you to run a Default Deny policy that blocks all applications, unless they're on your whitelist. If you're looking to introduce or update a Default Deny policy, our new test mode lets you set up the policy in a test environment – so you can check your policy is correctly configured, before you 'go live'.
Preventing the connection of unauthorized devices 
Device Control tools make it easy to manage which devices are allowed to access your corporate IT network. You can set up controls that are based on the time of day, geographic location or the type of device. You can also align the controls with Active Directory – for granular administration and policy assignment. Administrators can also use masks in the creation of Device Control rules – so multiple devices can easily be whitelisted for use.
Monitoring and controlling Internet access 
Our Web Control tools let you set up Internet access policies and monitor Internet usage. It's easy to prohibit, limit, allow or audit your users' activities on individual websites or categories of sites, such as games websites, social networks or gambling sites. Geographic and time-of-day controls may be aligned with Active Directory – to help in administration and setting policies.
Centralizing Management Tasks
Letting you control all functions from one console 
Kaspersky Endpoint Security for Business | Advanced includes Kaspersky Security Center – a single unified management console that gives you visibility and control of all of the Kaspersky Lab endpoint security technologies that you're running. Kaspersky Security Center lets you manage security for your mobile devices, laptops, desktops, servers, virtual machines and more – with the convenience of a 'single pane of glass' console.
Assigning different responsibilities to different administrators 
Role-Based Access Control helps you to divide security management & systems management responsibilities between multiple administrators. For example, you may want one administrator to manage endpoint security, endpoint controls and mobile security, while another administrator takes care of data encryption and all systems management functions. The Kaspersky Security Center console can easily be customized so that each administrator only has access to the tools and information that are relevant to their responsibilities.
Delivering a higher level of integration 
Because tightly-integrated code results in products that deliver improved security, performance and manageability, all of our endpoint technologies have been developed by our own in-house team. All of our endpoint protection functionality is contained in the same codebase – so there are no incompatibility issues for you to deal with. Instead, you benefit from seamlessly integrated security technologies that do more to protect your IT environment – while centralized management saves you time.
*Not all features are available on all platforms.
**Not all processors are supported.
***Some features are not available for some of the supported mobile platforms.
Applications Inside:
The following applications are all included within Kaspersky Endpoint Security for Business | Advanced:
Kaspersky Endpoint Security for Windows (for workstations)
Kaspersky Endpoint Security for Windows (for File Servers)
Kaspersky Endpoint Security for Linux
Kaspersky Endpoint Security for Mac
Kaspersky Anti-Virus for Linux File Server
Kaspersky Security for Windows Server
Kaspersky Security for Mobile
Kaspersky Security Center
To get details on system requirements – for an individual application – just click on the application name in the list above.
Compare:
What Security Solution is right for your business?
Compare Kaspersky IT Security Solutions For Business
| | | | | |
| --- | --- | --- | --- | --- |
| | | | | |
| | Cloud | Select | Advanced | Total |
| On-premise Console With Granular Setup | | | | |
| Simple and Intuitive Cloud-based Console | | | | |
| Pre-configured Security Profiles | | | | |
| Advanced Protection for Workstations and File Servers | | | | |
| Device and Web Controls | | | | |
| Application Control | | | | |
| Security for Mobile | | | | |
| Mobile Device Management | | | | |
| Mobile Application Management* | | | | |
| Systems Management | | | | |
| Encryption | | | | |
| Security for Mail | | | | |
| Security for Internet Gateways | | | | |
| Security for Collaboration | | | | |
IT professionals remind us every day that their occupation is becoming increasingly difficult
The job has always been hard, but now the level of complexity across the network and connected devices seems out of control. There is often frustration over the lack of resources, shrinking budgets, and users who take your policies to the limit. Once stationary, data has now migrated across multiple systems, smartphones and tablets and is often located in coffee shops, airplanes and left behind in taxis. And of course, application patching to stop vulnerabilities has become a fulltime job (that is if you can ever really know which applications are being used). This complexity has forced some organizations to make security compromises.
You need a new, uncomplicated way to deal with these changes and threats
Administrators can see, control and protect their IT environment with Kaspersky Endpoint Security for Business. Tools and technologies are uniquely balanced across progressive tiers to meet your evolving security and IT needs. Kaspersky can make your job easier.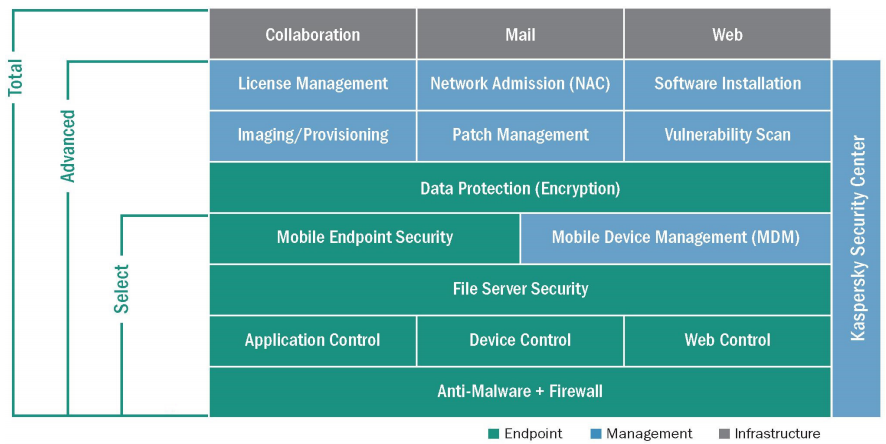 Kaspersky boasts a comprehensive list of technologies — all working together from the same codebase and further assisted by the cloud-based Kaspersky Security Network — to give our customers the worldclass protection they need. In short, we've delivered the industry's frst Security Platform, built from the ground up, making it easy for you to see, control and protect your world.
Pricing Notes:
Pricing and product availability subject to change without notice.