Kaspersky Fraud Prevention

Reduction of fraud risk for online and mobile financial transactions

Overview:
Your customers have been quick to embrace digital banking services – and many are now demanding additional functionality and simplified processes that offer them new levels of convenience.
Capitalizing on these demands can help your bank to:
Roll out profitable, new online and mobile services
Manage and reduce your day-to-day operating costs
Optimize the user experience that your services deliver
… while also helping you to differentiate your brand – so you can boost customer retention rates and win new clients. However, along with the growing digital banking market there is a rising tide of digital fraud. Highly organized cybercriminals are constantly developing new and sophisticated methods of undermining banks' and customers' defenses to access usernames, passwords and ultimately, money.
Can you do more… to protect your money and your reputation?
No matter how well you protect your internal IT systems, your customers' computers and mobiles can be the weak links that enable fraudsters to strike.
Furthermore, the increasing popularity of mobile banking is bringing greater risks. Even customers that vigilantly protect their computers against malware and phishing campaigns often fail to understand that their mobile devices can be just as vulnerable.
Unfortunately, when criminals attack, your business could be left having to cover your customers' costs – and dealing with long-term damage to your hard-won reputation.
Rigorous security is an absolute necessity – but only if it's capable of delivering the necessary protection while also ensuring a smooth, productive banking experience for your customers.
Powerful security that won't get in your customers' way
Kaspersky Fraud Prevention delivers multi-channel security technologies that help you to defeat more fraudsters and deliver a frictionless and efficient service to your customers. It gives you a choice of technologies that provide protection at your customers' endpoints – including their computers and mobile devices – and within your own corporate network.
Whatever devices your customers use to access your services, our technologies ensure that their user experience is positive and their data is safe - at the same time freeing you up to focus on growing your market share.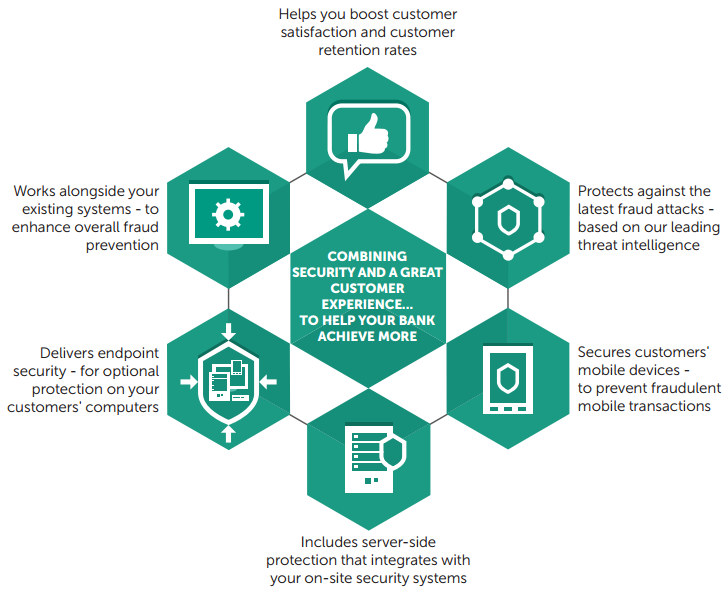 Threat Landscape:
Banking Environment
Banking & payments are increasingly going digital. Your customers are seeking freedom from branches and demanding the convenience of online & mobile banking. This trend benefits your bank by offering a higher margin channel through which you can provide anytime, anywhere access to more high-margin and high-retention services. At the same time, cybercriminals are continuously launching new ways to attack. So your bank needs rigorous fraud prevention – but not at the expense of a smooth banking experience for your customers.
Customer Errors Can Impact Your Reputation
It's a sad fact of life. Your customers can be unpredictable and unreliable – especially when it comes to ensuring their computers and mobile phones are secure. However, their mistakes are still likely to be your problem. Every time one of your customers is attacked by an online fraudster, it's your business that's likely to suffer the most. It's not just a case of you having to cover your customer's financial loss, you could also see your business reputation damaged – even though you've done everything you thought possible to protect your own internal IT systems.
What We Offer:
Kaspersky Fraud Prevention proactively protects against the root causes of digital banking fraud. It secures digital transactions, without damaging the customer experience:
Adds multi-channel security for digital banking & payments
Helps protect 100% of users – regardless of device
Delivers 'frictionless' security, for a smoother user experience
Offer high margin services – without security concerns
Deliver more functionality & differentiate your brand
Boost customer retention & win new customers
Kaspersky Fraud Prevention Clientless Engine
Provides server-side technologies that protect 100% of your user base… no matter what device or platform your customers are using, we prevent infected devices accessing your systems
Kaspersky Fraud Prevention Mobile SDK
Protects mobile banking & payments apps on Android, iOS and Windows Phone devices. It safeguards customers' account information and secures customer communications with your bank
Kaspersky Fraud Prevention for Endpoints
Runs on your customers' Windows PCs and Mac computers, to provide powerful protection root-cause prevention against malware and Internet-based attacks
Business Benefits:
Root-Cause Prevention That Focuses on Customer Experience
Adding extra levels of authentication could severely damage your customers' user experience. Our technologies proactively fight against fraudsters' attacks, so authentication can do what it was designed to do. This way your bank does not place unnecessary burdens on your customers, and you can provide safer services that your customers can trust. Kaspersky Fraud Prevention makes sure no infected devices can access your bank's online systems. Furthermore, you'll be blocking fraud at its root – instead of having to deal with the aftermath of a fraudulent transaction.
Insight & Visibility Into The Hygiene of Your Customers' Devices
The Kaspersky Fraud Prevention Console delivers key information, insights, and statistics to better manage your fraud prevention strategy. Know which customers are protected or unprotected, and know which devices are infected or clean. Gain understanding of what threats your bank faces, what malware is attacking your bank, and what phishing attacks are targeting your customers.